This cscs card training is for people who currently work, or want to work in construction and need a cscs card!
We have over 10 years experience of delivering CSCS Card Training and have helped 100's of delegates gain their CSCS Card.
Book Now
Who needs this qualification?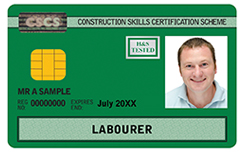 Anyone wishing to apply for the Construction Skills Certificate Scheme (CSCS) Green Card to work on a UK construction site needs to pass a CSCS Touch Screen Test. (You may also need a Level 1 Health and Safety * Available Separately, see website for details)
Why is this training important?
Every week learners around the UK are failing their touch screen test, many believe it is common sense, but it takes a certain amount of knowledge to be able to pass a CSCS test.
You can pass with 42/50 but you can also fail with 48/50 (* We explain why in our session)
Why take the chance!
We offer a flexible training session which includes a 3hr presentation going through the trickier questions of the touch screen tests followed by mock tests before we book your proper test (usually the week after).
If you are not ready after our training session we give you access to our range of learning materials that can be accessed at home on your PC, tablet or phone! You can also visit our centre in Hull on a weekly basis until you are ready!
Payment Options
The Price of £75 + VAT includes
1 Days CSCS Test Training (additional days available free of charge if required)
CSCS Test Booked @ Pearson, Bond Street, Hull (+ 1 Free Re-Test)
You can pay via:
Eventbrite

Debit/Credit Card/Invoice – Call 01482 640043 to make payment
What Next
If you have already passed your Level 1 Course or have trade qualifications, you can apply for your 5 year labourers card click here for information.
If you have not passed your Level 1 Course and you have never held a CSCS Card previously, you can order a 6 months provisional card click here for information.
We also deliver the Level 1 Health and Safety Card Course required for a full 5 year card application please see our website for details.
Venue
1st Floor
Regus Hull
Norwich House
Saville Street
Hull
HU1 3ES